AB 284 Disclosure
This  disclosure is to educate you on  the revolutionary law AB 284 in which took impact throughout the state of nevada  10. 1. 11. AB 284 law significantly lowered the Notice of Defaults involving Non-payments, delinquent loans, that is the very first period in the non judicial foreclosure process The Nevada notice of default  is definitely the trigger in which for many  home owners to begin and  commence the short sale process of their Las Vegas or Henderson home . The issues in the AB 284 law have artificially  lowered the inventory due to many Las Vegas home owner motives. Some Las Vegas real estate home owners have been in their house for four years without making a mortgage. According to LPS over half of homeowners in default on their mortgage in Las Vegas and Henderson are in their homes currently over two years.We've without a doubt noticed a number of price ranges and Las Vegas real estate regions exceed appreciation rates of approximately 30% since February. Get more AB 284 Las Vegas real estate market info at  click here to watch AB 284 effects explain by steve hawks las vegas short sale .
The effect of AB 284 on short sales and new Las Vegas homes
New home builder product sales have  doubled year over year  Las Vegas new home builders have  increased prices  in a market in which previous to AB 284 their sales where some of the lowest las Vegas new home sales on record. Most third-party experts from CNBC Diana Orlick to Moody's rating agency have agreed it is stalling the recovery and is delaying the inevitable and will create a larger price decline then the Tax credit which is being compared to AB 284. AB 284  analyst have all agreed this is delaying the inevitable and when the Notice of Defaults return the drop in values will be lower than The southern Nevada Newspaper Las Vegas review Journal documented in which over the next  5 years Las Vegas will experience  100,000 residential real estate foreclosures. A similar event as AB 284 recently happened in 2010 the tax credit for home buyers. This pulled demand forward and created an artificial shortage.
 The AB 284 Las Vegas Real estate shortage
AB 284 has artificially restricted supply creating an artificial shortage far worst then the tax credit. click here las vegas short sale  Once the tax credit was terminated Las Vegas new home builders sales plummeted towards the lowest on record and prices plunged to levels below when the credit started. This occurrence will most likely happen again when the supply is put back on market prices will plunge below where they started before Nevada law AB 284 effective  10.1.11 and new homes will return to where they started pre AB 284.
AB 284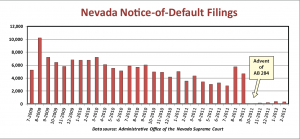 Presented inside Construction with Scar 15, 2011.
Through: (Bolded identify suggests principal sponsorship)
Conklin, Horne, Kirkpatrick Ab 284 www.shortsalewalk.com
Las Vegas short sales decline due to AB 284
Las vegas short sales decline due to AB 284
steve hawks / short sale specialist / henderson / las vegas /
Steve Hawks
B.S. Finance Real Estate & Law
Platinum Real Estate Professionals
702.458.3999 Direct Office
www.google.com   www.bing.com    www.yahoo.com   for information about Steve in the NEWS and REVIEWS
Steve Hawks | Las Vegas Short Sales
Steve Hawks | Las Vegas Short Sales
Steve Hawks | Las Vegas Short Sales